VP-2FCU-EMAIL in Workshop With Energy Meter

General Description
VP-2FCU-EMAIL setup in workshop is for Factory Acceptance Testing. The system setup is as illustrated below with Wifi connection to workshop Router for access to Internet. Please note that sometimes the Control Panel could be off-line.
Some featurs of the VP-2FCU-EMAIL control panel includes the following -- Alarm and Data Logging (eg. Temperature, Humidity and Energy Consumption), Automatic Email Alerts (eg. High Temperature, Fire Alarm), Web page monitoring and Remote access via One Drive. An integrated IoT application for Server Room.



Email Alerts
Automatic email alerts in event of critical alarms. For example, high temperature status and equipment trip. Integrated with Call Centre support, the email alert feature will provide prompt and effective maintenance.


Data Logging
Download CSV logs for Overall Log (delimited by comma eg. Date Time, Temp, RH, KWHr, Auto Mode, FCU1 Run, FCU2 Run, FCU1 Trip, FCU2 Trip, High Temp) and Alarms files. These data are useful for data analytics.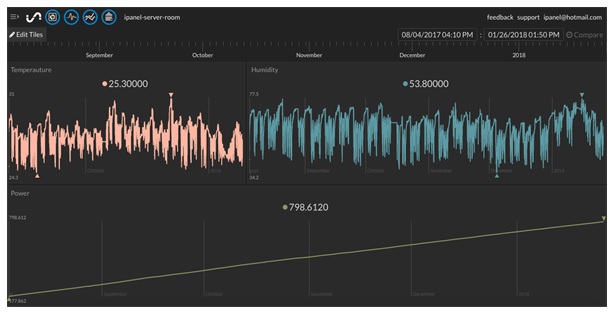 Modbus RTU Network
Energy Meter for incoming supply to Aircon units is located at the DB board and is connected to the VP-2FCU-EMAIL control panel via RS485 Modbus RTU network.


Webpage Monitoring
The webpage is time-stamped and updated periodically. Refresh this screen for latest status.